GOLD Learning Speakers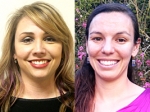 Amber Valentine
, MS, CCC-SLP, BCS-S, IBCLC, CNT
Lillian Scott
, MS, CCC-SLP, IBCLC, CLC
Speaker Type: GOLD Lactation 2018
Country: USA
Biography:
Amber Valentine is a Speech-Language Pathologist who graduated from the University of Kentucky with her MS in Communication Disorders. She is a Board Certified Specialist in Swallowing and Swallowing Disorders and an International Board Certified Lactation Consultant. She worked for Baptist Health Systems, Inc for 8 years before moving to Florida where she worked for Wolfsons Children's Hospital and Mayo Florida. She is now back in Kentucky working for Baptist Health Lexington. She has experience in adults and pediatrics with feeding and swallowing difficulties including: bedside swallow evaluations, Modified Barium Swallow studies, FEES, and pediatric feeding evaluations including NICU. She has provided guest lectures for the University of Kentucky and the University of Louisville on feeding and swallowing topics. She has presented at the hospital level, local, state, national, and international levels on pediatric feeding/swallowing and breastfeeding.
Lillian Scott is a speech-language pathologist and certified lactation counselor employed by Baptist Health Lexington in Lexington, Kentucky. She received master's degree in Speech-Language Pathology from Gallaudet University. She received dual bachelor degrees in Communication Sciences and Disorders and Special Education from the University of Kentucky. She has worked with pediatrics and adults in the areas of speech, language, and swallowing. She has NICU, Mother/baby, and outpatient clinical experience working with feeding dyads of breast and bottle feeding infants. In the area of adults and pediatrics, she has experience with clinical swallowing evaluations and Modified Barium Swallow Studies. She has experience with adult Fiberoptic Endoscopic Evaluations of swallowing (FEES). Her interest is in successful feeding by mouth for infants with complex medical histories and promoting breastfeeding in cultures that are not likely to receive the supports for feeding difficulties due to knowledge, costs, and/or access.
CE Library Presentation(s) Available Online:
Watch Today!
View Lecture
Note: Currently only available through a bundled series of lectures
Feeding Difficulties: A Look at High Risk Populations
Feeding is the most complex task of infancy, even in term babies with no complications. There are many diagnoses, conditions, syndromes, and co-morbidities that can impact feeding in neonates and infants. This talk will briefly highlight many of those, but we will focus on three specific populations of interest –Neonatal Abstinence Syndrome, Infants of Diabetic Mothers, and Downs Syndrome. We will discuss the specific implications these conditions can have on feeding, why these infants may have difficulty, and the classic symptoms one could expect to see. The differences between delayed and disordered feeding will also be addressed. Strategies and adaptions for breast feeding will be discussed. Positioning and external strategies will be explained. Case studies will be shared at the end of the presentation.
Accreditation, Main Category
Presentations: 29 | Hours / CE Credits: 26 | Viewing Time: 8 Weeks
Accreditation, Main Category
Presentations: 1 | Hours / CE Credits: 1 | Viewing Time: 2 Weeks