GOLD Learning Speakers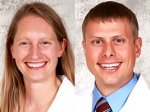 Briana Tillman
, IBCLC, M. Ed, OMS-III
Nicholas Sloan
, BSME, OMS-III
Speaker Type: GOLD Lactation 2018, GOLD Lactation 2019
Country: USA
Biography:
Briana Tillman received her undergraduate degree in International Relations from the United States Military Academy at West Point. She has been a La Leche League Leader for 9 years and is a board certified lactation consultant. After spending 10 years as a stay-at-home mom, she is currently in her third year of medical school at Rocky Vista University College of Osteopathic Medicine in Parker, Colorado. She loves spending time with her husband and three kids—as a family they like to travel, go camping, and play string instruments in "family ensemble."
Nick is a 3rd year medical student at Rocky Vista University College of Osteopathic Medicine. He has a background in mechanical and systems engineering but found his calling in medicine after volunteering for Health4Haiti in 2011. He lives in Colorado with his wife and they enjoy hiking, camping and fishing in the great outdoors.
CE Library Presentation(s) Available Online:
Watch Today!
View Lecture
Note: Currently only available through a bundled series of lectures
What a Letdown: Exploring the Physiology of the Milk Ejection Reflex
New mothers experience the milk ejection reflex, or "letdown," in various ways. While some feel no physical symptoms, others experience a tingling sensation and some even have significant pain or sadness. Babies also have different experiences, from the overactive "drink from the firehose" to frustratingly long waiting at feeding time. This presentation explores the multitude of influences on letdown, from internal hormones and chemical signaling pathways to the research related to such external influences as diet, alcohol, stress, and the use of synthetic oxytocin. Many moms believe that they either do not produce sufficient milk or need a quicker, more effective letdown. Suggestions to deal with these issues range from drinking beer to adding different nutritional supplements to the diet, from hypnosis to oxytocin nasal spray. We will explore the research and unravel the best practices and recommendations we can give to clients related to their concerns about the milk ejection reflex.
Accreditation, Main Category
Presentations: 29 | Hours / CE Credits: 26 | Viewing Time: 8 Weeks
Presentations: 1 | Hours / CE Credits: 1 | Viewing Time: 2 Weeks
Watch Today!
View Lecture
Note: Currently only available through a bundled series of lectures
Psychiatric Topics in Breastfeeding
Due to the global shortage of mental health professionals, many primary care providers have become the first-line responders to a wide variety of psychiatric concerns. While lactation consultants and breastfeeding support counselors are not called upon to diagnose and treat mental health disorders, they nonetheless often become enmeshed in the topic due to the holistic nature of breastfeeding management. An understanding of the major psychiatric topics that can arise during lactation consultation is therefore a valuable asset. In this presentation, we will describe mental health benefits and drawbacks of breastfeeding, and explore the controversy surrounding the "breast is best" campaign as it regards maternal mental health. We will also briefly explore the pharmacological and non-pharmacological options in treatment of major psychiatric disorders (e.g. generalized anxiety, major depressive disorder, bipolar mood disorder, schizophrenia) as they relate to lactation. Finally, we will review the scientific literature related to potential long-term mental health effects of breastfeeding on babies.
Accreditation, Main Category
Presentations: 29 | Hours / CE Credits: 27.0 | Viewing Time: 8 Weeks
Accreditation, Main Category
Presentations: 1 | Hours / CE Credits: 1 | Viewing Time: 2 Weeks