GOLD Learning Speakers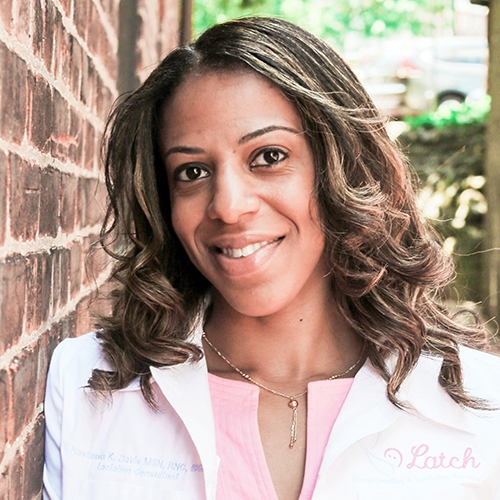 Nastassia Harris
, DNP(c), MSN, RNC-MNN, IBCLC
Speaker Type: Breastfeeding in the NICU Lecture Pack 2018, GOLD Lactation 2021
Country: U.S.A.
Biography:
Dr. Nastassia Harris is a licensed registered nurse with over 15 years' experience in perinatal nursing and became an International Board Certified Lactation Consultant in 2009.

Nastassia serves as an assistant professor in the school of nursing at Montclair State University. Over her career Nastassia developed a passion for eliminating disparities in black infant and maternal health. In 2018, she went on to found a nonprofit, the Perinatal Health Equity Foundation where she serves as the executive director. Through the nonprofit, Nastassia established Sistahs Who Breastfeed, a breastfeeding support group for black women which operates in several NJ cities.

She is active in several committees and organizations including the Association of Women's Health Obstetrics and Neonatal Nursing and the Black Mamas Matter Alliance. Nastassia's research and clinical interests include implicit bias/racism in healthcare, breastfeeding in the black community, obstetrical violence, high risk OB, and reproductive justice.
CE Library Presentation(s) Available Online:
Watch Today!
View Lecture
Note: Currently only available through a bundled series of lectures
Navigating Pathways to Breastfeeding Success in the Late Preterm Infant
Breastfeeding the late preterm newborn (34 0/7 to 36 6/7 weeks) presents unique challenges that differ from that of a health full term baby. By nature of their immaturity, late preterm infants are at higher risk for developing jaundice, hypoglycemia, falling sleeping during feedings, and being difficulty to wake. Unfortunately, this also puts them at a greater risk for formula supplementation, despite a family's desire for exclusive breastfeeding. This presentation will help to illustrate the challenges in breastfeeding the late preterm infant, and techniques for preserving exclusivity in the hospital and post discharge.
Accreditation, Main Category
Presentations: 4 | Hours / CE Credits: 4 | Viewing Time: 4 Weeks
Watch Today!
View Lecture
Note: Currently only available through a bundled series of lectures
When It's Time to Let Go... Stories of Weaning
Weaning is an inevitable component of breast/chestfeeding. Many families have expressed feeling unprepared for the experience and the challenges they face in that journey. This presentation will explore the current research and lived experiences of weaning among different families and cultures. We will discuss strategies that were both effective and ineffective in the weaning process, time period in which families began the weaning process as well as tips and tricks from the parent perspective that lead to successfully weaning their child. Weaning will be discussed in the context of the impact on both the parent and the child.
Accreditation, Main Category
Presentations: 29 | Hours / CE Credits: 29.5 | Viewing Time: 8 Weeks