GOLD Learning Speakers
Kimarie Bugg
, DNP (s), RN, MPH, IBCLC
Speaker Type: GOLD Lactation 2016, Optimizing Milk Production Lecture Pack 2018
Country: USA
Biography:
Kimarie Bugg is currently a Doctor of Nursing Practice student and is President and CEO of Reaching Our Sisters Everywhere (ROSE), a National nonprofit corporation developed in 2011 to address breastfeeding inequities in the African American community. Kimarie previously worked for Emory University, School of Medicine, as a nurse practitioner. She is a member of the faculty for CHAMPs, a Baby Friendly Hospital Initiative, and chair of the nominating committee of United States Breastfeeding Committee. She also provides training for healthcare providers and community transformers nationwide. She completed a Community Health Leadership Program, within the Satcher Health Leadership Institute at Morehouse School of Medicine that stressed best practices to provide global health equity and eliminating health disparities through action-oriented projects. In 2016, Kimarie received a Legacy Award from the United States Breastfeeding Committee for her work in the breastfeeding arena for 38 years. She believes that Truth, Racial Healing and Transformation can take place in marginalized communities, starting with Breastfeeding. Kimarie lives in the Atlanta area with her husband, Dr. George W. Bugg Jr, a neonatologist and they are the parents of 5 adult children.
CE Library Presentation(s) Available Online:
This Presentation is Currently Offline
Reaching Our Sisters Everywhere (ROSE)
Reaching Our Sisters Everywhere (ROSE) is a member network that was founded to address breastfeeding disparities among people of color nationwide through culturally competent training, education, advocacy, and support. This presentation will explore the barriers to breastfeeding faced by African American families, and delve into how ROSE addresses these barriers through a multisystem approach.
Watch Today!
View Lecture
Note: Currently only available through a bundled series of lectures
Establishing & Maintaining Milk Production When Exclusively Pumping
In this presentation, you will learn about working with mothers' who are struggling to maintain their milk supply when infant is unable to latch or they have an infant in the NICU or wanting to plan ahead and maintaining a supply perhaps while they are either returning to work or school.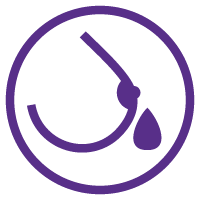 Presentations: 6 | Hours / CE Credits: 6 | Viewing Time: 4 Weeks