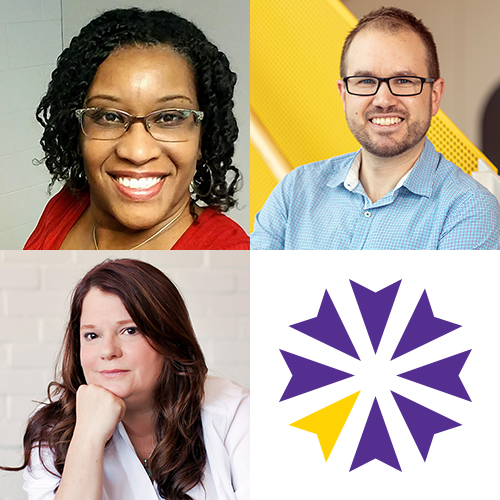 GOLD Learning Day: Got Milk? Skills & Tools for Improving Low Milk Production
Knowing how to support adequate milk production is crucial for any professionals working with breast/chestfeeding families. Our expert speakers Barbara Robertson, Tameka Jackson-Dyer and Luke Grzeskowiak bring together some of the latest research and techniques for dealing with different aspects of human milk production. Learn more about counseling and anticipatory guidance to reduce perceived insufficient milk production. Hear the latest research on benefits and risks associated with using domperidone as a galactagogue including treatment recommendations relating to treatment initiation, dosing, duration of treatment, and treatment cessation. Finally, hone your clinical skills for assessment and management of true low milk production.
SAVE 20% on registration price! Register by August 4, 2022 & save on Early Bird Discount! Regular registration price comes into effect on August 5.
We look forward to having you join us for this exciting day of learning!
Click here to Share this Poster
with more detailed information about this GOLD Learning Day, showcasing Speakers, presentations and registration information.
Indivudual Registration

Group Registration (5+)

Prices in USD
Early Bird
Regular
Early Bird
Regular
Country Category A
$40
$50
$35
$40
Country Category B
$20
$25
$17.50
$20
Country Category C&D
$12
$15
$10.50
$12
Want to Sign Up as a Group of 5 or more? Contact us at [email protected]
Sharing is Caring!
Invite your friends and colleagues and share this great learning experience together. Easily tag/share/retweet through our posts below.
Like/Comment/Share on Facebook
Retweet on Twitter
Like/Comment on Instagram
Like/Comment/Share on LinkedIn
Lectures in this bundle (3):
Accreditation
CERPs - Continuing Education Recognition Points
GOLD Conferences has been designated as a Long Term Provider of CERPs by the IBLCE--Approval #CLT114-07. This program has applied for 3 CERPs (3 L-CERPs).

Nurse Contact Hours
This activity has been submitted to American Nurses Association Massachusettsfor approval to award contact hours. American Nurses Association Massachusetts is accredited as an approver of nursing continuing professional development by the American Nurses Credentialing Center's Commission on Accreditation. For more information regarding contact hours, please contact Jessica at 1-604-566-8311.
If approved, nursing contact hours will be awarded through to 8/22/2024.
CMEs - Continuing Medical Education Credits for Physicians & Nurses
The AAFP has reviewed GOLD Learning Day: Got Milk? Skills & Tools for Improving Low Milk Production, and deemed it acceptable for AAFP credit. Term of approval is from 8/22/2022 to 8/22/2023. Physicians should claim only the credit commensurate with the extent of their participation in the activity. This activity is approved for 3 AAFP Prescribed CME credits.
CME credits are valid until 8/22/2023.
Additional Details:
Viewing time: 6 Weeks
Tags / Categories
(IBCLC) Education and Communication, (IBCLC) Maternal, (IBCLC) Pharmacology and Toxicology, (IBCLC) Research
How much time do I have to view the presentations?
The viewing time will be specified for each product. When you purchase multiple items in your cart, the viewing time becomes CUMULATIVE. Ex. Lecture 1= 2 weeks and Lecture Pack 2 = 4 Weeks, you will have a total of 6 weeks viewing time for ALL the presentations made in that purchase.

Time for viewing the talks begins once you purchase the product. For Live Webinars & Symposiums, the viewing period begins from when the live event takes place. Presentations can be accessed 24/7 and can be viewed as many times as you like during the viewing period.
What are bundled lectures?
Presentations may be available individually or via a bundled package. Bundled lectures are a set of lectures that have been put together based on a specific category or topic. Some lectures will be available in both individual and lecture form, whereas others will be available only via a bundled lecture pack.
Will there be Handouts?
YES! Each lecture comes with a PDF handout provided by the Speaker.
Some lectures include a Q&A, what does that mean?
During our online conferences, presentations that occur live are also followed by a short 15 minute Question & Answer Session. The Speaker addresses questions that were posted by Delegates during the presentation. We include the recording of these Q&A Sessions as a bonus for you.
How can I receive a Certificate?
If this presentation offers a certificate, once you are done viewing the lecture or the lectures within a bundle, submit your attendance record in order to be able to download your certificate. You'll be able to see which credits are offered for the lecture by hovering over the "Credits Available" link within the "Speakers & Topics" tab.
Professionals that selected this package also viewed